Your instrument is your pride and joy, it's special to you, not to mention they can be very expensive! So when you need to take them overseas, it's understandable that you should be concerned about traveling with such valuable cargo. Especially if you have a very large or rare instrument that you fear will be damaged or lost.
Additionally, over the years, you've probably heard many horror stories from fellow musicians who tried to fly their instruments, and that alone can be enough to put you off. But sometimes it is inevitable and you have to travel by plane whether you are happy about it or not. That is why we have compiled this guide to ensure that your instrument is protected and maintained at all stages during your journey.
Read on to learn more about how to do your research, properly prepare, and carefully fly your instrument.
1. Book your flights
The first big step in getting your instrument overseas is to research airline policies and book your tickets. This first section describes the various steps you need to take to get the ball rolling.
Choose how you want your instrument to fly
It may sound a little strange, but before you do anything you need to decide how you will transport your instrument. There are different possibilities. The point is to decide what works best for you and then find an airline that suits your needs. You can check your bag into the hold like your normal luggage, take it with you on the plane and put it in the locker, or buy another seat on the plane specifically for your instrument. We'll look at these options in more detail later.
Do some research before booking your plane tickets
Before booking your tickets, it is a good idea to research the different airlines that are available to you so that you can choose the one that best suits you and your instrument. Every airline has different rules and guidelines when it comes to baggage and especially instruments. So you need to check these out first. The last thing you want to do is buy a ticket to find out that your instrument cannot fly in the cabin.
Hence, it is best to find an airline that is flexible and that understands your need to protect the instrument. You can do this by looking at the website or by contacting us directly with any questions such as:
Do I have to check in my instrument in the hold?
Can I take my instrument with me on the plane?
Will my instrument fit in the locker?
Do I have to pay extra for my instrument?
It is a good idea to have the dimensions of your instrument (or instrument case) with you when you call the airline so that they are better equipped to answer your questions. Once you've found an airline with policies that suit you, it's time to book your ticket.
Decide if you need to buy an additional ticket
As mentioned earlier, some airlines may allow you to take your instrument into the cabin with you. However, if it doesn't fit in the overhead bin, you may need to purchase an extra seat. This is likely to be the case with larger instruments that you don't want to check into the hold. You should be able to determine whether or not you need to buy an extra seat after doing your research on various airlines. Just make sure you have all your tickets and luggage sorted before arriving at the airport to avoid nasty surprises or additional costs.
2. Prepare your instrument
Traveling with your instrument isn't as easy as throwing it in a bag (and let's assume you never would!). You need to carefully prepare your instrument days before your flight so you know that everything is safe. More on this below.
Make sure you prepare your instrument on time
As your flight approaches, you need to make sure that you have properly prepared your instrument for flight. This can mean different things depending on whether you are checking or stowing your instrument. In either case, however, it is likely that you will need a sturdy bag or bag to carry around with you. This is especially true if you plan to check your bag as it goes through much more stringent steps to get off the plane as well. As an additional safety measure, it can be helpful to put fragile stickers on the case.
If you have minor accessories that are normally included with your instrument, take them out of your bag or case to avoid damage they could cause in flight. You can pack these accessories in your normal luggage instead if you have enough space.
The next step is to make sure there are no sharp objects or liquids in your instrument case, e.g. B. Cleaning solution. Otherwise, you could have them confiscated and it may take longer to go through airport security. Again, you can put them in your normal baggage or check bag until you arrive at your destination.
If there are large or loose gaps in your case, wrap them with soft materials, foam, or bubble wrap to better protect your instrument. After all, flights can be bumpy and your instrument can spin around in flight. In terms of security, it's a good idea to carefully tag your case, including your name, number, and address in case it is lost. It is also important to put a lock on your suitcase or bag, especially if your instrument is very expensive.
The last thing to consider is temperature changes on the plane. If you have a wooden instrument, you may want to purchase a device to keep your instrument humidified on a dry airplane. If you have a stringed instrument, you need to consider temperature fluctuations. So if you loosen your strings, they won't break during flight. And last but not least, if you have a brass instrument, they may contain styrofoam cones or blocks to protect it in the event of an impact. You sure don't want a dent in your trombone!
Print the details
If you are concerned about having questions or resistance at the airport, it may be helpful to print out the airline's rules for traveling by instrument from their website, or ask a member of staff to email you the rules if they can. 'I can't find her online. That way, you'll always have them with you in case you need to refer to them during your time at the airport or when boarding your flight.
3. Travel a day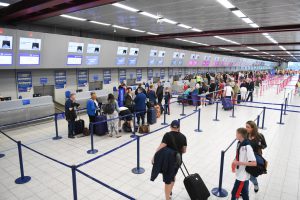 There are a few things to keep in mind on the day of your flight. At this point, you should know whether to check or store your instrument, and there are things you can do to make sure your trip is as easy and enjoyable as possible.
Make sure you get to the airport on time
It goes without saying that you should arrive at the airport a few hours before your flight to be safe. However, if you are traveling with extra luggage such as an instrument, it is a good idea to leave a little earlier than usual. This gives you plenty of time to go through security, check your bags as usual, and get on the plane. You might even want to buy a quick boarding pass to get on the plane early so you can use your instrument safely and healthily without having to pass by many other passengers. This also gives you the opportunity to talk to staff and ask questions.
Check your instrument if this is the plan
If you have decided to check your instrument into the hold, do so as soon as you arrive. This way, you can relax and enjoy your flight without worrying too much about the airport.
Even so, accidents occasionally happen when your bag is being handled. It is therefore a good idea to check your instrument as soon as you remove it from the carousel at the other end. In this way, you can immediately report damage to airport staff and receive a reference number. This will help you later when you need to use your insurance.
Be prepared for security checks
When you bring your instrument into the booth, be prepared for it to go through security checks just like you. Realistically, you may not want others to touch your precious instrument, but during security clearance this can be inevitable. If it fits, you will be prompted to place the case on top of the scanner. If it's too big, you can take it aside to check for yourself. Note, however, that they may need to open the suitcase and look through the contents. Remember that this is a necessary measure. So stay calm, do what the airport staff ask and it will be done in minutes.
Always keep your instrument in sight
As you travel through the airport, you may want to do some shopping or sit somewhere to eat and drink. Just make sure you have your instrument in your locations at all times. The usual airport rules apply, don't leave it unattended for a second! If carrying is a bit of a hassle, check out your instrument or buy a travel bag with a strap so you can carry it on your back.
4. Use a baggage delivery service instead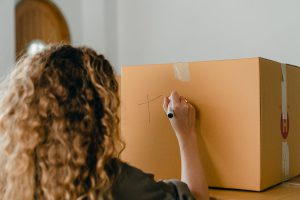 Sometimes the best way to take your instrument overseas is not to take it on a plane at all. It is worth noting that there are other alternatives if you are concerned about taking such a valuable belonging on a plane. Using a Baggage delivery service could make your life a lot easier and this is where My Baggage comes in! Our couriers will collect your instrument (or luggage) at the location you choose and bring it to the door at your final destination. This means that we can pick up your instrument from our home. You can then travel to your destination and wait for your bags to be delivered. Easy!
This can save you a lot of hassle in the long run, and better yet, it's cheaper than the excess baggage fees you incur at the airport. You can track Your instrument every step of the way so that you can travel safely knowing that we will strive to get your items to you safely and healthily.