I'm not sure what's more fascinating here – the route that operated yesterday, or the plane as such …
The Boeing 787 flies non-stop from Seoul to Buenos Aires
Yesterday a Boeing 787-8 with registration code P4-787 operated a non-stop flight from Seoul Incheon (ICN) to Buenos Aires (EZE). This 12,106 mile flight was completed in a flight time of 20 hours and 19 minutes, which certainly makes this flight one of the longest 787 flights of all time.
The route that Comlux drove non-stop from Seoul to Buenos Aires
Shortly after landing in Buenos Aires, the aircraft refueled and made the 40-minute flight to Punta del Este (PDP). So I can safely say that the plane has really increased its range.
It goes without saying that this is well beyond the aircraft's typical published range, but presumably the aircraft was more or less empty so it could be operated much further than under typical conditions.
The basics of P4-787, the aircraft in question
The aircraft that served this route has registration code P4-787 and is a seven year old Boeing 787 that originally entered service in May 2013. The aircraft previously flew for Aeromexico, but was put into storage in January 2021 and taken over by Comlux from February 2021.
You have to love the budget friendly way this plane was repainted for the time being. Comlux basically kept the Aeromexico livery, except for the name, and I have to say it looks surprisingly good.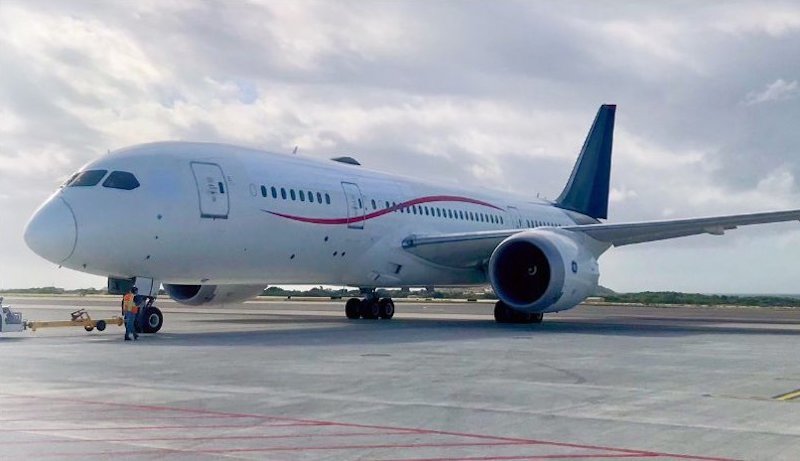 Comlux Boeing 787-8
Comlux operates a fleet of VIP aircraft, both for private and for charter use. The company is behind several of the most fascinating VIP aircraft, including the Crystal Skye Boeing 777-200LR.
Which brings me to my first question: does anyone know how this particular 787 is configured as of now? The aircraft entered Comlux's fleet just last month:
On the one hand, I would assume that the aircraft may not have been converted to a VIP configuration yet, considering how much time this can take
On the other hand, the plane has been flying around non-stop for the past few weeks, so could it really be in the same configuration that it used to be at Aeromexico as I can't imagine this would be very popular with 787 charter customers?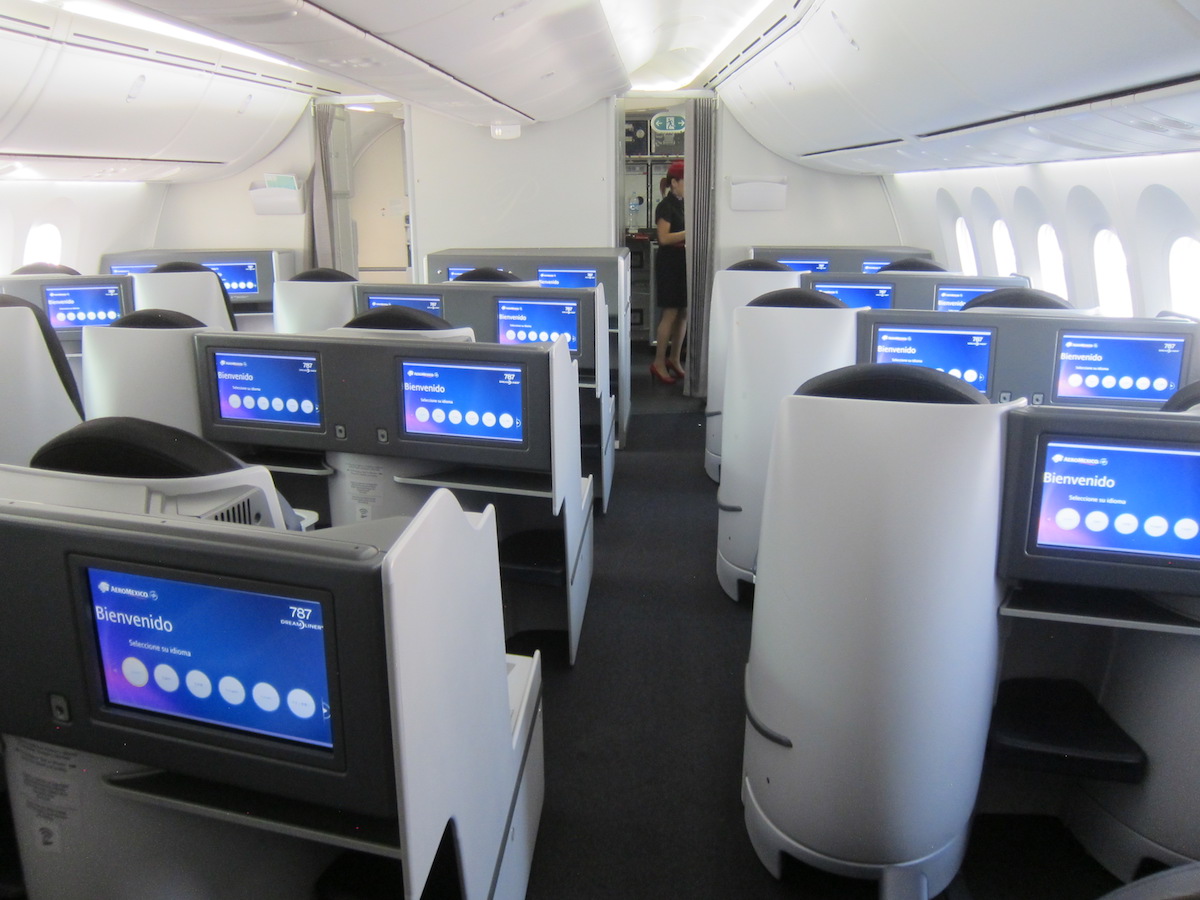 Aeromexico Boeing 787-8 Business Class
Check out the routes this plane flew!
I've checked out the flights this plane has been doing over the past few weeks and wow, I'm speechless:
On March 11th the plane flew from Punta del Este to Buenos Aires (36min)
On March 13th the plane flew from Buenos Aires to Muscat (15h26min)
On March 14th the plane flew from Muscat to Seoul (7h37min)
On March 17th, the plane flew from Seoul to Osaka (1 hour 17 minutes)
On March 18, the plane flew from Osaka to Guam (2 hours 54 minutes)
On March 18, the plane flew from Guam to Auckland (7h37min)
On March 19, the plane flew from Auckland to Tahiti (4 hours 48 minutes)
On March 19th the plane flew from Tahiti to Copenhagen (16h37min)
On March 21, the plane flew from Copenhagen to St. Petersburg (1 hour 32 minutes)
On March 22nd the plane flew from St. Petersburg to Zurich (2h30min)
On March 22nd, the plane flew from Zurich to London (1 hour 12 minutes)
On March 22nd, the plane flew from London to Cairo (4 hours 2 minutes)
On March 23, the plane flew from Cairo to Male (6h5min)
On March 23, the plane flew from Male to Gan Island (54min)
On March 24th, the plane flew twice (22 minutes each time) to and from Gan Island.
On March 26th the plane flew from Gan Island to Male (50min)
On March 26th, the plane flew from Male to Seoul (8 hrs. 1 min.)
From there the plane flew from Seoul to Buenos Aires to Punta del Este as described above
Below is a picture of what this looks like on a map.
The routes for the Boeing 787-8 from Comlux in the last few weeks
Does anyone really know what's going on here? Is there a single charter customer, were they all separate charter, is there a freight motive or what? I'm usually pretty good at reading between the lines when it comes to flight tracking, but I'm lost here:
This seems almost like an "air cruise" of sorts, except the lack of time between flights makes this unlikely
Maybe there was a charter between Seoul and the Maldives, but what was the point of the two ~ 20 minute flights on Gan Island that were just taking off and landing?
I just can't understand the rest of the way, like the Guam flight, Tahiti to Copenhagen, etc.
Was it all some sort of crew training exercise? If so, it seems terribly costly and like a pretty unusual routing
I am sure there is a perfectly reasonable explanation. So if anyone has any insights, I'd love to hear them. I don't think I've ever seen a single plane in a couple of weeks that serve such different routes.
Can you imagine how fascinating it would be to be a crew on this plane? I wonder if a single crew performed all of these flights or if the crews were faded in and out.
Bottom line
A former Aeromexico Boeing 787 that now flies for Comlux has just completed a more than 20-hour non-stop flight from Seoul to Buenos Aires. That might be the least interesting part of this story, however.
For the past two weeks the plane has been everywhere from Muscat to Guam to Auckland to Tahiti to Copenhagen in the Maldives, and I really have no idea what's going on.
Can someone shed some light on what exactly this fascinating Boeing 787 is up to? And does anyone find that as interesting as I do?