The Radisson Rewards loyalty program is changing strangely.
The Radisson Rewards program is to be divided into two parts
It was announced today that the Radisson Rewards loyalty program will be split into two parts from June 2021:
Radisson Rewards remains the dedicated loyalty program for members in Europe, the Middle East, Africa and Asia Pacific
Radisson Rewards Americas will be the new member loyalty program for members in the US, Canada, Latin America and the Caribbean
Similarly, you will now find that all hotels in America are bookable through RadissonHotelsAmericas.com rather than the regular Radisson website.
What are the effects of these changes?
Starting June 2021, members with Radisson Rewards accounts registered in America will automatically transfer their accounts to the new program. What happens to your points, your status, etc.?
With the new Global Points Transfer process, which will be launched in June, you can transfer points at a 1: 1 ratio between programs for free
If you have status in Radisson Rewards, you can call Member Services to request a status match for silver, gold, or platinum levels (seriously, they want people to call?).
With each program, you can only collect points for stays in each of the two regions. In other words, Radisson Rewards Americas members cannot earn points for stays outside the Americas, at least not directly in the Radisson Rewards Americas program
There are currently more questions than answers. Among these are the following:
Will there be a way for Radisson Rewards Americas members to redeem points on properties outside the Americas? It appears that point transfers between programs will be possible, but it is not entirely clear to what extent this will work
How do the promotions differ between the two programs?
Do you still get mutual elite perks when you stay in hotels in the other region?
I'm not sure this clears up much, but here's a table of Radisson Rewards detailing which program you're on:
The following table explains how to collect and redeem points: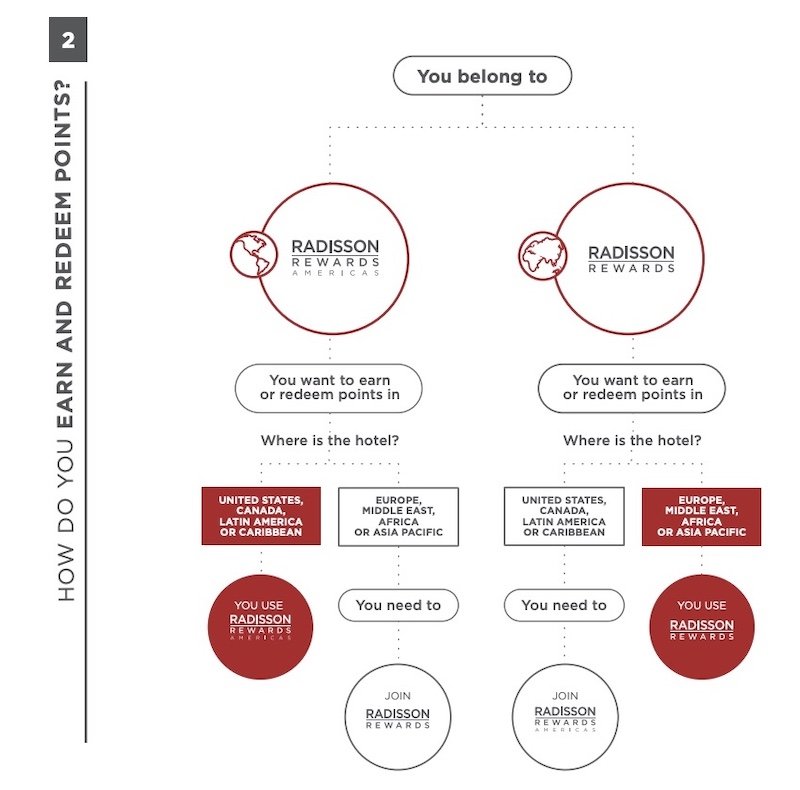 Why is the Radisson Loyalty Program being split up?
Radisson isn't particularly honest about why this change is being made. According to the FAQ, here is the reason the programs are split up:
Why will there be two different loyalty programs?

Radisson Hotels and Radisson Hotels Americas are launching a second program, the Radisson Rewards Americas program, to offer a more local experience. Ensure Radisson Rewards members continue to receive great local deals.
That's quite an explanation. Adding unnecessary confusion, Radisson makes the program less compelling and global in order to "deliver a more local experience?"
The real reason the programs are split up is because Radisson is largely owned by the Chinese government – it was first acquired by HNA Group a few years ago and then sold to Jin Jiang International, which is controlled by the Chinese government.
The US government is demanding that the Chinese government no longer have access to this type of data for US consumers, which is why the programs are likely to actually be split off.
Bottom line
The new Radisson Rewards Americas program, a program for those who have registered Radisson Rewards accounts in America, will launch this summer. It seems that this is happening because of US regulations that the Chinese government doesn't need to access that much data.
While I understand the motive, this sounds like a pretty negative change in the program's value proposition. At the very least, points will be transferable between programs and there will be a status match, but the logistics still don't sound great.
I have Status and Radisson Rewards points through a co-branded credit card and, ultimately, this is what I appreciate most for stays in Europe, where Radisson hotels are generally the nicest.
What do you think of these Radisson Rewards changes?