Madonna di Campiglio is a mountain resort surrounded by the majestic Brenta Dolomites, a crescent moon of peaks in the UNESCO-protected Italian Dolomites. Excellent skiing in winter and great hiking trails in summer add to the breathtaking scenery of this amazing place. Hotel Lorenzetti has the best views in the resort and is well located to take full advantage of the walks in summer and skiing in winter.
The family-run business opened in 1990 and quickly gained a reputation (and many awards) for outstanding hospitality and excellent cuisine. The on-site restaurant is considered to be one of the best in the area. They also own Alfiero, a restaurant in town that offers more intimate fine dining.
Most of the rooms have a direct view of the mountains, as does the bar and restaurant. The two sun terraces, one outside and one inside, also look out over the mountains.
Although the hotel is on the edge of the village, it is only a ten-minute walk to the nearest ski lift. It is located on the Giro di Campiglio, which leads to all the major hiking trails in the area.
The hotel offers a free shuttle service for those who prefer not to walk. This brings guests to the center of the village and to all five cabin lifts. They really care about all of their guests.
accommodation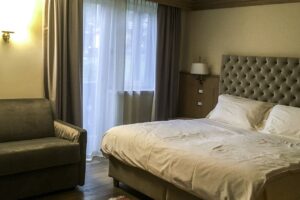 The hotel has 49 rooms that range from luxurious family suites with their own living room to cozy junior suites, comfort rooms and classic rooms. Bathrobes and slippers are available free of charge, as are toiletries and free mineral water. Each room is equipped with a well-stocked minibar, a television and a telephone. All rooms have a balcony. Most of the rooms offer a wonderful view of the mountains.
Investments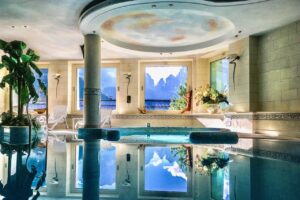 All hotel guests can use the wellness area free of charge. It has a small indoor pool with counter-current and hydromassage.
There is also a Turkish bath, a finish sauna, Kneipp therapy, TechnoGym fitness equipment and massages. Relax in a quiet relaxation area with herbal tea and a view of the Brenta Dolomites.
Rooms are also available for meetings and small conferences. Discounts are available at the hotel's ski rental and high-end fashion and sportswear shops.
WI-FI is available free of charge throughout the hotel.
to eat and drink
The large, elegant restaurant is subtly lit with crystal chandeliers that reflect the splendor of the Royal Court in Vienna. Waiters slide back and forth between tables, delivering gourmet food and exchanging greetings with guests seated on soft, pink chairs. It's a dining experience per Eccellenza.
The popular owner, Signora Lorenzetti, makes a tour every evening to check that the guests are satisfied. This can take well over an hour as she is often embroiled in long conversations with repeat guests, many of whom return every year.
Breakfast is a mix of cold and warm buffet. Muesli, juices, yogurt, fresh fruit, bread and croissants with side dishes such as ham, cheese, jam and honey are available every morning. Scrambled eggs and bacon are also part of this rich buffet. Coffee (different variations), tea and hot chocolate can be ordered from the waiters.
A pleasant end to the evening is a drink in the wood-paneled bar, where you can enjoy a digestivo made from one of the many local grappas.
How much
Prices start at € 85 per night for Bed & Breakfast (low season and special offers). All bookings include free use of the hotel spa.
FIND OUR MORE / BOOK HOTEL LORENZETTI
What's around?
The Hotel Lorenzetti is located on the outskirts of Madonna di Campiglio. It's a 20-minute walk from the hotel to the center of the village, but there is a 24-hour bus service.
A popular Italian tradition is the early evening promenade, where you can browse shops and have a drink in one of the many bars. During the ski season, the bars are popular with skiers returning from the slopes, creating a great ambience.
The ski slopes are part of the ski area – 150 km of slopes that include three other villages. Cross-country skiing, snowshoeing and tobogganing are also popular activities here.
Get there
British Airways offers daily flights from the UK to Verona. Fares (hand baggage only) start at around £ 50 each way. Madonna di Campiglio is a 2-hour drive from Verona Airport.
A Flyski shuttle is available on weekends. The hotel organizes taxis / minibuses through the local transport cooperative