Greece is one of my favorite places in the world that I want to visit in summer. What can you not love about food, the breeze and the landscape? While the European Union has been closed to most foreigners for almost a year, Greece claims it will soon be open again to tourists from all over the world. I am sceptical.
Greece plans to open to visitors from May 2021
This week, Greek Tourism Minister Harry Theocharis announced that Greece will welcome visitors this summer who have been vaccinated, have antibodies or who have tested negative for coronavirus. Greece is slated to reopen from mid-May, which is a little over a couple of months away. As Theocharis explained:
"Greece is ready with a full protocol for the summer of 2021. Tourists are welcome if they are either vaccinated, have antibodies or test negative before they travel. All tourists are randomly tested. "
This is noteworthy for several reasons:
Greece is part of the European Union and the European Union has been closed to a vast majority of foreigners for almost a year with no plans to reopen
Most American adults are expected to have access to a vaccine by May 2021, meaning vaccinated trips appear very likely this summer
Greece made similar claims about being open to everyone in the summer of 2020, but it didn't and Greece followed the EU's border policy
View from Santa Marina (Marriott Luxury Collection) in Mykonos, Greece
Is Greece way too optimistic?
As much as I would like to believe the Greek Minister of Tourism, I would not take these statements at face value just yet. The most fundamental problem is that the borders of the European Union remain closed and it has not been announced when this will change:
While it is widely believed that vaccinated people are allowed to travel to most places, many countries appear to have no plans to open borders until a large part of their population is vaccinated
Greece could take action against the European Union and open its borders, but this could prove to be more difficult than it is worth considering the new border systems that would have to be put in place
Even if the EU intended in general to create a framework for opening the borders, it is likely to take a while as nothing is moving fast with the EU
Then there is the whole separate question of how do people actually prove they are vaccinated. Work is in progress on "digital passports" which are intended to be an optimized method for people to prove that they have been vaccinated for travel purposes.
However, this is not exactly an easy process:
When will enough countries agree on a format for this concept?
How are people going to prove they have been vaccinated since current vaccination certificates are fairly easy to forge in the US?
How long can vaccinated travelers travel as many restrictions are only relaxed for vaccinated travelers for a 90 day period?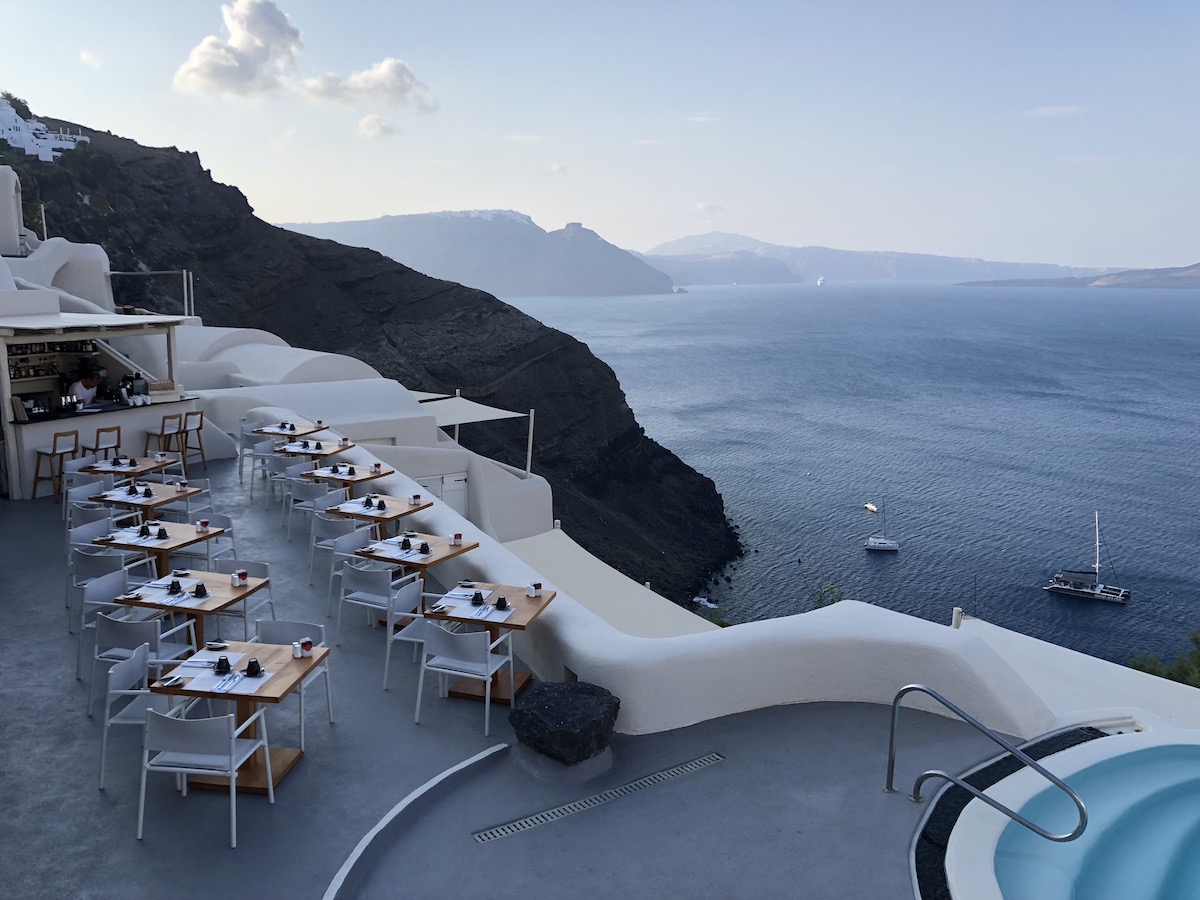 View from Mystique (Marriott Luxury Collection) on Santorini, Greece
Bottom line
Greece claims to be open to tourists from around the world from mid-May, including those vaccinated, those with antibodies and those with negative coronavirus tests.
While I would love this to be true, I just don't see this for the next several months. Not only does the European Union have no plans to open its borders, but the question arises as to how vaccination records would work at all.
I wouldn't be surprised if Americans were accepted into the European Union towards the end of the summer, but personally I think May is very optimistic.
What do you think of Greece's tourism timeline?