Given how 2020 has gone so far, we don't think many of you would be surprised if suddenly told that Christmas has been canceled this year. And at the risk of sounding like a complete Grinch, the usual festivities this year have to be reserved for something smaller and quieter, with many unable to travel, Christmas holidays being canceled and the lead-up to the big day becoming much tamer than we're used to are. For many of you, this also means missing out on the time-honored tradition of browsing the Christmas markets, eating roasted chestnuts and drinking mulled wine on the go.
But there is good news! Thanks to technology, there are still plenty of ways to enjoy the festive season (and we're not just talking about watching Christmas movies on demand and playing with that fun electroshock gag gift you gave your uncle).
To keep the Christmas cheer alive, some of the world's largest and best markets have set up virtual tours and portals so you can keep shopping online. This means that you can still take part in your usual tradition, even if it looks a little different this year. Below we've compiled a list of eight virtual Christmas markets from around the world for you to visit from the warmth and comfort of your own home.
(Chocolates and mulled wine in hand optional but recommended).
Schloss Charlottenburg Market, Berlin
At this time of year there are usually many wonderful Christmas markets across Germany, especially in the state capital Berlin. Unfortunately, this will not be the case this year, but luckily you can enjoy the Charlottenburg Palace Market with a virtual 360-degree tour. Get your fire going and bring your sausages to a boil, because you can enjoy all the usual delicacies of the market from your sofa. And even better, if you have a VR headset, there is also a version of the tour formatted for VR so that you can fully immerse yourself in the festive experience.
The little ice dream, Vienna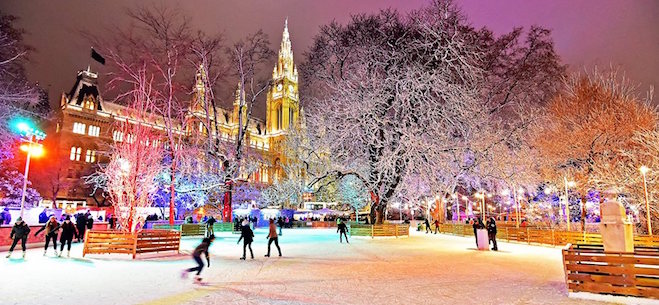 The Kleine Eistraum is one of the largest and most popular Christmas markets in Vienna. Although the event cannot take place, the organizers have captured footage of last year's market and put together an exciting tour that allows you to see the market from every angle. You can watch people dance around on the ice rink, gain access to market stalls, and walk through the glittering arches. Best of all, the footage has people in it that you really feel like you will join as part of the action.
ChristKindl Christmas market, Colorado, United States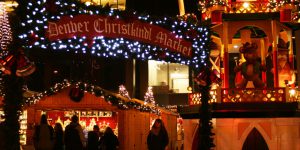 Due to the special circumstances this year, the ChristKindl Christmas market is the first virtual Christmas market of its kind in the USA. This year's market was called "Home for the Holidays" and was set up to emulate a traditional German market. The online portal allows you to bring your Christmas spirit to life in the online marketplace and take part in family-friendly events and fun interactive activities for children.
Walking through December through the New Year can still bring some special memories back to life during this festive season, even if things are a little different than normal.
Albert Square Market, Manchester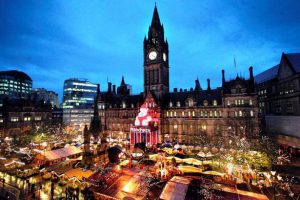 Every winter, Manchester's Albert Square is lit up with a festive series of Christmas lights around its already beautiful architecture, including the Town Hall. This lovely, warm atmosphere is the perfect backdrop for the multitude of stalls selling Christmas gifts, decorations, chocolates, cheese and other delicious comfort foods.
Of course, that's not going to happen this year, but thanks to Google Street View, you can take a virtual stroll around the market and get your taste buds tingled as you think of all the delicious festive goodies you'll be enjoying this December.
Tuscan Virtual Market, Italy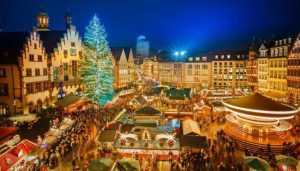 Since Christmas won't be the same this year, the lovely team at Encompassing Destinations decided to do something very special. They work with a number of Italian suppliers to create a fully virtual and informative Christmas market experience.
In addition to the Christmas market tour in three countries, the website offers a lot of information about their Italian suppliers, their products and where you can buy them yourself. Because nothing says Christmas like a cheese board full of delicious Italian cheeses (and of course with Italian meat and fresh bread!).
Craftadian Holiday Market, Canada

Due to ongoing concerns about the COVID-19 pandemic, the Ontario Craftadian Holiday Market has been canceled. The good news is this quaint craft fair is going online to bring you an exciting festive shopping experience. From jewelry makers to artists to handcrafted stationery, this craft fair has something for every craft lover.
In addition, in addition to learning more about the manufacturers and craftsmen through the virtual platform, you can also watch DIY demos and instructional videos on how to get the most out of their products. You can then of course order these products through the website either for yourself or as a gift for a loved one.
7. Santa Claus Village, Finland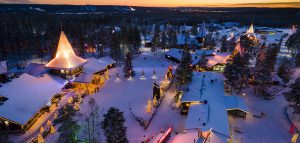 OK, so not necessarily a market tour, but no Christmas would be complete without a trip to see the big guy! So you and your little ones can enjoy live streaming and Santa Television, all of which were filmed in Santa Claus Village in Lapland.
You can watch video messages from Saint Nick for yourself and watch the elves go to work getting everything ready for Christmas Day. Because hey, the pandemic may have slowed us down and some events could be canceled, but Santa and his reindeer will always find a way to be there on Christmas Day.
If you're traveling home to be with your family this Christmas, My Baggage has you covered. Get your luggage shipping quote today!