Airlines are sure to try new things in these troubled times. A few months ago I wrote about how Aer Lingus should put its new transatlantic flights from Manchester on sale in a matter of days. That didn't happen, so I wanted to provide an update on it as it looks like flights should actually be on sale soon this time around …
Aer Lingus' transatlantic Manchester plans
We learned quite a bit about Aer Lingus' transatlantic plans a few months ago when the airline was granted slots at Manchester Airport. After the submission at the time:
Aer Lingus received over 1,500 new slots at Manchester Airport for the 2021 summer season, which runs from the end of March to the end of October
The airline announced that it would be stationing four aircraft from Manchester, including an A330 and three A321LR, although the destinations had not been announced at the time
In early December 2020, Aer Lingus submitted an application to the US Department of Transportation for the planned US service. According to the filing, Aer Lingus will fly:
Daily from Manchester to Boston in summer
Manchester to New York daily all year round
Manchester to Orlando daily in summer and 4 times a week all year round
This submission contained some interesting updates:
There appear to be only three planned routes while Aer Lingus can serve up to four routes. It remains to be seen whether any of these routes run more than once a day or whether Aer Lingus doesn't use all of the slots
The airline is now planning to station two A330s and two A321LRs in Manchester (previously it was planned to station one A330 and three A321LRs there).
Aer Lingus will station up to four aircraft at Manchester Airport
These routes are about what I expected. I had suspected that Aer Lingus' Manchester destinations could be Boston, Los Angeles, Las Vegas, New York, and / or Orlando (obviously not all, due to aircraft restrictions).
Aer Lingus' Manchester routes will be on sale shortly
Earlier this year, Aer Lingus filed with the U.S. Department of Transportation (DOT) to seek approval for its application as soon as possible. The airline had announced that it would sell flights from Manchester from January 8, 2021.
That didn't happen, so why did that happen? This is not because Aer Lingus changed its mind, but because the DOT never gave its approval. This is because the UK airline did not yet have an air carrier certification.
There is now an update on the matter – the DOT has pre-approved the marketing and sales of its Manchester transatlantic flights from Aer Lingus, so flights can be put on sale soon. The airline will receive full approval after receiving an air carrier certificate, which is expected to be in place by the end of March.
It sounds like we should now expect Aer Lingus transatlantic flights from Manchester to be on sale in a matter of days.
Why is Aer Lingus expanding from Manchester?
It may seem coincidental that Aer Lingus would be launching transatlantic flights from Manchester, but this has been in the works for a while and it kind of makes sense:
In September 2020, Aer Lingus announced that transatlantic flights from Shannon would be cut and that the airline was discussing the possibility of launching transatlantic flights with six UK airports (the airline was clearly looking for subsidies).
Aer Lingus is now joining the transatlantic joint venture oneworld, which essentially means the airline can coordinate fares and schedules with American, British Airways, Finnair and Iberia
Delta and Virgin Atlantic also have a large joint venture between the US and Europe, and Virgin Atlantic expanded its presence in Manchester even before the pandemic
For some reason, British Airways has avoided transatlantic flights from Manchester so it might make sense to bring another IAG airline to market
Thomas Cook went out of business last year, despite the fact that the airline had the most transatlantic capacity outside of Manchester up to that point
American has permanently canceled its Philadelphia to Manchester route, meaning there is less transatlantic capacity around the world in Manchester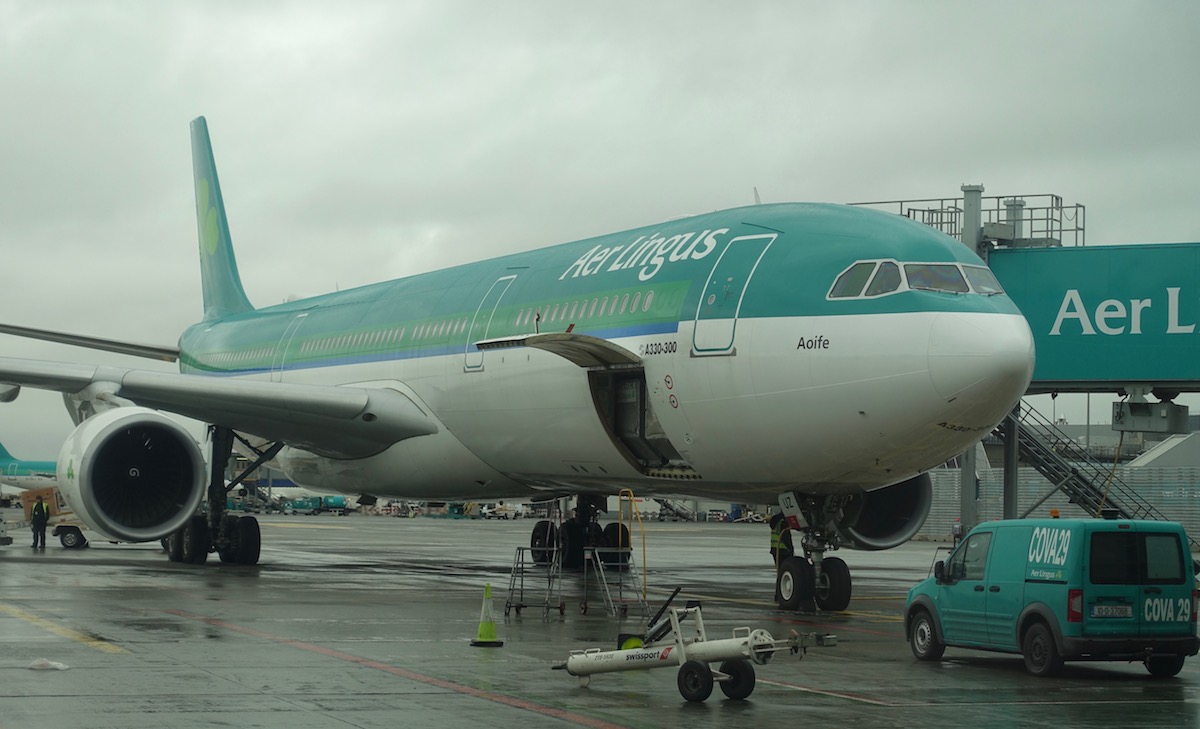 Aer Lingus will be part of the transatlantic joint venture oneworld
Bottom line
Aer Lingus hopes to fly from Manchester to Boston, New York and Orlando from summer 2021. These flights are expected to go on sale in the coming days as the DOT gave Aer Lingus tentative approval to sell flights even before the airline received its UK air carrier certification.
With Aer Lingus also joining the oneworld transatlantic joint venture, we will likely soon see the reciprocity we can expect for frequent flyers. I expect it will be possible to earn and redeem AAdvantage miles with Aer Lingus.
All of these additions make perfect sense, considering that Aer Lingus is joining the oneworld transatlantic joint venture, which means the airline will benefit from more pricing power and better connectivity. The big question will be at what point will the US-UK travel restrictions be lifted, which is likely to be required for this type of service to work.
What do you think of Aer Lingus' planned transatlantic flights from Manchester?